Beginning on Monday, June 22, Facilities Services is closing the library's public elevator in order to rebuild the motor. This improvement will be implemented before the start of fall semester, and the public elevator will be available for use again after August 15.
In the meantime, please come to the Borrow Desk for information on special services. Our staff elevator can be used to access additional levels, and your library staff is available to escort you to other floors.
We are sorry for the disruption of public elevator service. Your access and safety are our highest priorities, so if you have further questions, please do not hesitate to contact us.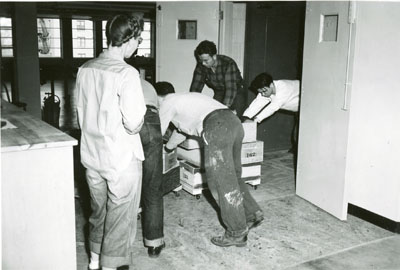 Unloading the 2nd floor elevator during the 1949/1950 MSU Library move